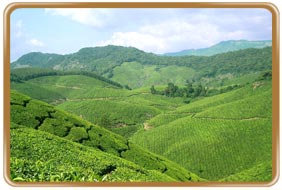 Ooty is nestled in the strikingly green abode of misty blue hills of the Nilgiris. As a queen of hill stations in South India, perched at an altitude of 2240 m, Ooty or Udhagamandalam is the headquarters of the Nilgiri's district where the two ghats converge.
With nature's splurge, Ooty is rich with coffee and tea plantations, trees like conifers, eucalyptus, pine and wattle. Summer temperature is rarely higher than 25°c with a minimum of 10°c and winter is distinctly cooler with a high of 21°C and a low 5°C.
This heavenly abode remained hidden till the British discovered it in the early 1800s. The British influence is still extant in the region with hand rolled cigars, chocolate and cheese that one can enjoy here. However, before the British there were Todas, an aboriginal tribe who inhabited the region since ancient times. The British constructed the first railway line in the area and made it the summer capital of the Chennai Presidency.
As a favorite summers retreat, Ooty is the place to be at all seasons. Merely being there refreshes you. Ooty tourism offers a gamut of scenic sites and adventure-laden trips both in the township and nearby areas. You can visit a host of sites within Ooty such as Botanical garden, which has some rich flora of the region, St. Stephen's church that reflects the city's long association with the British. You can also explore Government Museum to witness tribal artifacts of the region and other historical relics. Or simply sit back and reflect by the side of Ooty Lake.
If you are a shopaholic, then Ooty is not going to suppress you innate desire to shop around. Eucalyptus oil, Honey, Cinchona products, coffee and Tea are some of the good buys. Most of the shops are open from 9 am to 12 noon and from 3 pm to 8pm. Todas Showroom sells silver and tribal shawls. Municipal Market and Coop. Super Market and Upper and Lower Bazaar Roads are the main shopping areas of Ooty. Poompuhar and Kairali Emporia can also be visited.