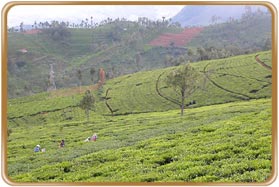 Kotagiri is one of the three popular hill stations, located in the Nilgiri Hills. It is just an hour's drive from Udhagamandalam, popularly known as Ooty. Kotagiri is a small hill resort located amid the lush tea estates. Kotagiri used to be the summer resort of the British. If you want to spend your vacations from the hustle and bustle of the crowded city life, Kotagiri is the perfect place for you. The climate of Kotagiri is a temperate one and attracts a large number of tourists every year.
Tourist Attractions at Kotagiri
Kodanad View Point
The Kodanad viewpoint is located 18 Km away from Kotagiri on the easternmost ridges of the Nilgiri Hills. On both sides of the road you can have a great view of the distant plains, tea estates, dams and the River Moyar.
Elk Falls
The Elk fall is another popular attraction at Kodagiri. Besides the waterfall, it is also known for the European house that was built here during the colonial period. Though the house is in ruins but that still makes a great sight. You can also have a close look into the lives of the tribal people by exploring the Badaga settlement, on the road to the falls.
Rangaswamy Pillar and Rock
The Rangaswamy peak lies 20 km from Kotagiri. This peak is sacred for Irulas (a tribe) that adds mysticism to the natural beauty. Just nearby is the Rangaswamy rock, a challenge for the rock-climbers. The Rangaswamy Rock rises abruptly on all sides to about 400 meters, which makes it impossible to climb.
Longwood Shola
The Longwood shola is the source of pure water for the people of Kotagiri area. Shola forests are a type of stunted evergreen vegetation that is found in the Southern states of India. The Longwood Shola forms an essential part of the delicate eco-system of the area. The micro climatic conditions make Kotagiri one of the ideal climatic locations. You can trek along on the picturesque trekking path, which goes through this calm shola forest.
How to Reach Kotagiri
By Air
The nearest airport is Coimbatore (105 km). It is connected to Chennai, Bangalore and Cochin.
By Road
Kotagiri is well connected to other major places in Tamil Nadu by road. Regular bus services connect the hill resort to Ooty, Mettupalayam and Coonoor.
By Rail
The nearest railhead is Coonoor (21 km).