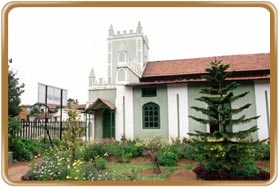 Udhagamandalam or Ooty is the headquarters of the Nilgiri district and is popularly known as the 'Queen of Hill Stations'. This hot tourist spot is laden with beautiful sites to savor. Some of the chief attractions are as below:
Botanical Garden
A gamut of regionally exclusive and ornamental plants find place in this garden. The Botanical garden is also the venue for the Flower Show held in May every year. It also houses a fossil tree trunk 20 million years old.
St. Stephen's Church
The St. Stephen's Church, located on the Mysore road, near the Collectorate, is one of the oldest churches in the Nilgiris. Built in 1829, the church has a fine pew with a raised chancel. There are stained-glass paintings on the Eastern side as well as behind the chancel. The glass paintings portray Mary holding baby Jesus in her arms and the crucifixion of Christ among others. On the Western wall, above the paneled doorways, is a large life-like painting of the Last Supper.
Government Museum
Plan your tour to the Government Museum on Mysore road. Be a witness to a host of tribal artifacts, district's ecological details and representative sculptural arts and crafts of Tamilnadu.
Ooty Lake
You can opt for a joy boat ride on this artificial lake. The lake garden has toy trains for complete recreation. Constructed in 1824 by Major John Sullivan, the then the Collector of Coimbatore, the lake is a hot picnic spot among the tourists.
Ketty Valley View
Located on the road to Coonoor, this idyllic spot is a cluster of tiny Villages that extend to the plains of Coimbatore and Mysore plateau.
Glenmorgan
About 25 km from Ooty is the picturesque Glenmorgan, which is famous for its tea estate. A captivating lake at the foot of this estate constitutes the fore bay for the Pykra powerhouse that is above 3 km down the hills at Singara. Glenmorgan and Singara are a tourist delight. There are about ten Todas (tribal) settlement in the vicinity.
Upper Bhavani
10 Km from Korakundah and about 20 Km from Avalanchi, Upper Bhavani has some of the best sholas like the Thar Shola enroute. The area is a rich and undisturbed wildlife habitat. You can enjoy trekking from Bangithappal via Sispara to Silent Valley.
Doddabetta
Lying at the junction of Western & Eastern Ghats, Doddabetta is the highest peak (2623 meters) in the Nilgiri's, about 10 km from Ooty. You can view the cosmos and surrounding through a telescope house run by TTDC.
You can also enjoy a myriad of tourists' hunts, which include, Kalhatty Water Falls, Wenlock Downs, Elk Hills and Snowden Peak and relish your visit to this enticingly beautiful region of Ooty.