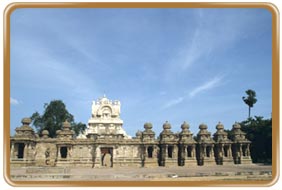 Salem is the headquarters of Salem district. The city lies at the base of Yercuda hills, a famous tourist destination that offers some of the most astounding scenic beauty. The name 'Salem' seems to have been derived from Sela or Shalya by which the term refers to the country around the hills, as in the inscriptions. And the place indeed has hills around its periphery.
The headquarters to Salem district, Salem is the fourth largest city of Tamilnadu and located in the central part of the state. The city is also a major textile hub of the country and famous for stainless steel.
Salem from the Pages of History
Local tradition claims Salem as the birthplace of Tamil poetess Avvaiyar. Inscriptions from Ganga dynasty have been recovered from parts of the district. Madurai Nayaks ruled Salem for quite some time. Late in the 18th Century, the Mysore Rajas captured Salem and after a long feud Colonel Wood took it over from Hyder Ali in 1768. Hyder recaptured it in 1772 and in 1799, Lord Clive annexed Salem and the place remained a military station till 1861.
Salem as a Tourist Destination
Leading to the picturesque trekking up Yercaud hills, Salem is an amphitheater of grand hills all around it. You have the Nagarmalai in the north, the Jeragamalai in the south, the Kanjanamalai on the west and Godumalai on the east.
Among the major tourists attractions you can visit Tharamangalam, which is situated about 27kms away from Salem and famous for Kailasanathar temple. Mettur dam is another popular picnic spot built across the river Cauvery. You can also savor the cascading Kiliyur Falls, a feast for your eyes.