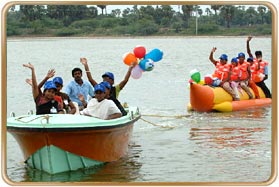 Situated in the heart of Tamil Nadu is the picturesque city of Salem. It is located on the foothills of Yercaud Hills and extends an exquisite beauty of its own. Salem offers tourist a fine blend of plains and hills. While staying at the plains, tourist can enjoy all admiring the beautiful and stunning hilly terrains. The city boastst of numerous sightseeing places, which would surely satiate tourists' urge for more. The city promises tourist a plethora of activities for every kind of traveler – right from trekking to pilgrimage to boating. Now, if you are wondering what are the things that can be done and seen in Salem, this article would be of help. To get detailed information about the fun activities to do in Salem, read through the following lines.
Fun Activities to Do in Salem
Trekking
If you are of fond of exploring the unexplored and love to have the first hand experience of unruffled nature, then Salem quenches your thirst in the best way possible. With the picturesque Yercaud Hills glistening brightly, Salem looks like an amphitheater with grand hills all around it. For trekkers, it is an absolute heaven, what with the Nagarmalai Hills in the north, the Jeragamalai Hills in the south, the Kanjanamalai Hills on the west and Godumalai Hills on the east. Tourists are sure to experience a once in a lifetime trek. While the trails are itself both challenging and interesting, the ambience and the beauty of the place makes it all the more a pleasurable sight.
Boating
For urbanites tired of handling their city-wearied heart, Salem would be a paradise on earth. The stunning lake adds to the beauty of the place. The serene and tranquility of the place is sure to melt your hearts and leave you asking for more. To add to the harmony of place is the opportunity for tourist to indulge in boating. Imagine relaxing on a boat with your beloved and watching the sun go down!! The Yercaud Lake and Kiliyur Falls are sure to make your wish come true. Both the places possess a serene beauty coupled with rustic ambience.
Pilgrimage
Salem is a great place for people who are religiously inclined. The place is home to several Mariamman temples. An incarnation of Shakti, Mariamman is a Hindu Goddess. Every year during the Mariamman festival, people indulge in a lot of celebrations and festivity. During this festival, devotees are found walking on fire and chanting their prayers. Apart from this, there is also Kandashramam, a small hill temple dedicated to Lord Muruga, sited 10 kms away from Salem City. There is also a Sitthar Koil temple, the heritage temple of Sitthar Koil, located about 10 km from the city.