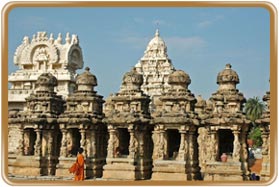 Kanchipuram is one of India's holiest sites, also known as the city of thousand temples. The sacred seat of the Shankaracharya, Kanchipuram is situated about 70 Kms from Chennai, on the Northern East coast of Tamilnadu. Kanchipuram, Kanchi, or Kancheepuram (also sometimes Conjeevaram) is a municipality and headquarters to Kancheepuram district. In ancient times it was called Kachi and Kachiampathi.
Ancient Repository
The history of Kanchipuram is intricately woven with the glorious reign of the Pallavas, the Cholas and the Rayas of Vijayanagar. Kanchipuram was the capital city of the early Chola kings in the 2nd century BC and a Pallava capital between the 6th and 8th centuries. The kings of Vijayanagar dynasty ruled Kanchipuram from 14th to 17th centuries.
The Sacred Destination
Kanchipuram is one of the seven most sacred pilgrim centers for the Hindus. Kanchi has about 126 temples remaining in total and a few more in its outskirts. There are several big temples, notably Ekambaranatha Temple which is one of the five form of abodes of Lord Siva, (it is the earth abode here, other abodes include Chidambaram (Sky), Sri Kalahasti (air), Thiruvanaikoil (water) and Tiruvannamalai (fire)), Kamakshi Amman Temple, Varadharaja Perumal Temple, Kumara Kottam, Kachapeshwarar Temple, Kailasanathar Temple and many more.
Flourishing Silk Art
Located on the picturesque Palar River, Kanchipuram is more than a pilgrimage destination; the city has a flourishing handloom industry. Kanchipuram is home to some of the most skilled silk weavers that are producing uniquely exotic and vibrantly colorful Kanchipuram silk sarees. Some of these silk weavers are here from more than 400 years ago. Their flawless skill has made it the best the producer of some of the finest silk sarees in the country.
The Kanchipuram silk sarees are exotic pieces of art, woven from pure mulberry silk. Available in a variety of designs, these sarees have vibrant colors and are decorated with fine gold thread (zari). As a cherished possession in the wardrobe of every well-off South Indian woman, the Kanjivaram saris woven at Kanchipuram, are also prized in North India. Such is the popularity of Kanchipuram silk that the city hosts the world famous Silk Tourism Festival in the month of October, each year.