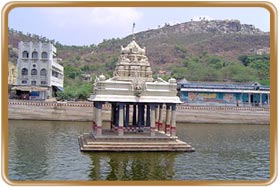 The temple city of Kanchipuram has many more beautiful sites to visit which lie on its periphery. Plan your excursions at leisure and make trips to some of the equally satiating places that you would love to cherish. Here are your excursion trip options:
Tiruttani
Very close to Kanchipuram, Tiruttani is one of the six abodes of Lord Subramanya, perched on a hilltop. The temple has 365 steps, leading to the hill, with each step representing the days of the year.
Sriperumbudur
Situated about 29 kms from Chennai on the way to Kanchipuram, Sriperumbudur is the birthplace of Saint Ramanujar, the father of the Vishishtadvaita philosophy of Vaishnavism. This is an important pilgrim center for the Vaishnavites.
Vedanthangal Bird Sanctuary
Those in love with birds may plan an exclusive trip to Vedanthangal Bird Sanctuary, situated about 60 km from Kanchi. The sanctuary is home to many migratory birds like the sandpiper, white ibis, spoonbill, swan and gray wagtail etc. Plan your visit between November and February.
Elagiri Hill
An isolated yet a popular picnic spot in the Eastern Ghats, Elagiri Hill is about 1000 mts high. Harboring a healthy climate, natural beauty and a Murugan temple Elagiri Hill is a must visit place.