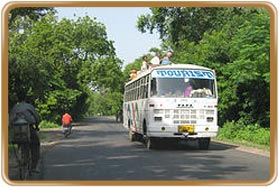 Kanchipuram is one of India's most visited sacred cities, with innumerable devotees and tourists making their tour to the city each year. The city is easily connected by air, rail and road. The city is just 75 kms from Chennai, the capital of Tamilnadu, which ensures its easy accessibility.
By Air
The nearest airport from Kanchipuram is in Chennai, which is 75 kms away. One can take flights for most of the important Indian cities and for abroad from Chennai.
By Rail
Trains for Kanchipuram are available from Chennai, Chengalpattu, Tirupati, and Bangalore. Kanchipuram is connected to both broad gauge that leads to western parts of Tamilnadu and North India and meter gauge that connects to the southern most part of Tamilnadu.
By Road
Kanchipuram is well connected by a good network of roads. Many of the major transport corporations of Tamilnadu operate buses connecting Chennai and Kanchipuram.
Local Transportation
Bicycles can be an exciting mode of moving around this temple city and you can have them on rent. However, for an easier and less laborious ride you can also opt for cycle-rickshaws and auto-rickshaws.