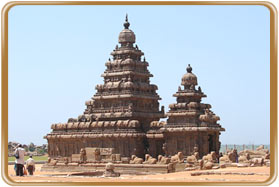 The temple town of Mahabalipuram is famous for its various temples and other attractive features. This 7th century city of the Pallavas is considered pioneer in the Dravidian architectural style. The city was earlier called Mallapuram and was a famous trading port of Pallavas. During your Mahabalipuram tour, you will come across many interesting tourism spots. Some of the best ones are as follows: -
Arjuna's Penance
Arjuna's Penance is the pride of not only Mahabalipuram and Tamilnadu but also of India. Arjuna's Penance is the world's largest bas-relief that measures 27 meters and 9 meters along its length and breadth respectively. This huge whaleback shaped rock contains figures of Gods, Demigods, Men, Beasts and Birds. The whole structure looks like the penance of Arjuna, the Pandava prince and one of the protagonists of Indian epic Mahabharata; hence the name.
Five Rathas
Five Rathas are the one of the most magnificent tourist attractions at Mahabalipuram Beaches. Five Rathas are actually five monolithic temples, each created in a different style. They are modeled around chariots that are called 'Rathas' in Hindi. They are also known as the 'Pancha Pandava Rathas', which means that each one of them represent 5 Pandavas, the protagonists of Indian epic Mahabharata. The most mesmerizing aspect of this monument is the fact that the four of the Rathas are supposed to have scooped out of a single rock formation.
Dakshinachitra
A must visit site on the Mahabalipuram beach is Dakshinachitra, a heritage village that is the brainchild of the Ministry of Culture. The village falls to your left when you start moving from Chennai to Mahabalipuram. The place is being developed as a model village that will have dedicated sectors depicting 19th century villages of states like Tamilnadu, Kerala, Karnataka and Andhra Pradesh. Everything, right from roads to utensils will represent that era. This ambitious project will take years to complete and is currently home to hundreds of artists and masons who are working on this project.
Shore Temples
Shore Temple is one of the oldest temples in South India and the oldest one based on the Dravidian style architecture. It belongs to the early 8th century AD and is considered a pioneer in the Dravidian temple art. The monuments are floodlit at night in order to make it visible in the night. In fact, the temple looks great in moonlit night.
Tiger's Cave
Tiger's Cave is just 4 kilometers off to the main monument complex of the Mahabalipuram beach. The place is actually an open-air theatre, where activities and programs highlighting the cultural heritage of Tamilnadu are held. As this place is ashore Coromandel Coast, it is very serene and calm.