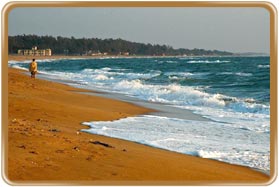 Mahabalipuram excursions guide offers excellent opportunities around the city. The place is close to Chennai and Kanchipuram and thus offers a range of choices for excursion. Both these towns are famous tourist destinations and attract scores of tourists every year.
Kanchipuram, a place 65 kilometers off to Mahabalipuram is famous for its temples and silk saris that are popularly called Kanjivarams. The Kanjivaram saris are the masterpieces of hand weaving. These saris are the major source of income for the local population and are the major export items of Tamilnadu. The magnificent town of Kanchipuram is popularly called the 'Golden Town of a Thousand Temples'. It is famous for the Kamakshi, Varadarajaswami, and Kailasanathar temples. These temples have been built by the various Dravidic dynasties such as Chola and Pallavas. These outstandingly beautiful temples are famous for their large and open courtyards and gigantic 'Gopurams'.
Vedanthangal is another favorite excursion site around Mahabalipuram. The place is renowned for a bird sanctuary that is the second largest bird sanctuary in India. This sanctuary attracts a range of migratory birds every winter. The most popular ones among these are Arctic Turn and Siberian Cranes.
The Covelong beach here is famous for its golden sand and other historical monuments. The beach is scattered with historical relics and ruins that includes an old harbor, a fort, two Churches and a mosque. Apart from that, the place offers facility for some of the most exciting water sports such as wind surfing and motor-boating. Apart from these the Crocodile Bank situated at a distance of 14 kilometers from Mahabalipuram is also worth visiting. The place has been developed as 'The crocodile breeding and research Institute' and has various species of crocodiles and alligators.