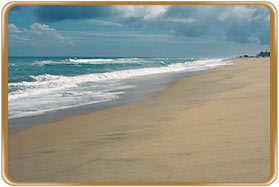 Mahabalipuram, previously known as 'Mamallapuram', is 55 kilometers off to Chennai, the capital city of Tamilnadu. Mahabalipuram, the magnificent city ashore Coromandel, was once a trading port of the Pallavas. Pallavas were the first Dravidic dynasty that ruled over the substantial portion of the peninsular India. The Pallavas rulers were famous for their appreciation and patronization of Dravidian art forms. They were the one who commissioned the magnificent monuments and temples of Mahabalipuram.
Mahabalipuram beach is famous for its marvelous monuments that include sculptural panels, caves, Monolithic Rathas (chariots) and temples. The Pallavas art at this place emphasizes robust earthly beauty, imbibed with life. These monumental splendors and the sunny beach resorts attract tourists from all over the world.
A crocodile farm, Snake venom extracting center, Schools of art and sculpture and a wide choice of resorts along the beach draw holiday-seekers all round the year. Mahabalipuram beaches are a good place for sunbathing and other related activities. The resorts that lay scattered all along the Coromandel offers a range of leisure activities such as diving, wind surfing and motor boating.