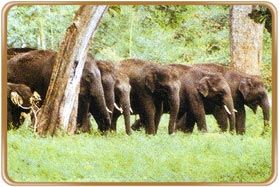 Anamalai wildlife sanctuary is one of the most attractive preserves of nature in Tamil Nadu. It is also called the India Gandhi national Park and located in the Western Ghats near Pollachi, about 90 km from Coimbatore. The wildlife sanctuary is spread over an area of about 958-sq-kms. The Anamalai wildlife sanctuary is an ecological heaven and includes a National Park.
Fauna
The Anamalai wildlife sanctuary has various kinds of fauna like Panther, Elephant, Gaur, Sloth Bear, Tiger, Deer, Wild Bear, Porcupine, Wild Dog, Flying Squirrel, Jackal, Civet Cat, Pangolin and birds like Rocket-tailed Drongo, Red Tree Pie, Whiskered Bulbul, Spotted Dove, Black Headed Oriole, Pigeon etc. There is a reservoir (the Amaravati reservoir) in the Anamalai, having a large number of crocodiles.
Attractions at Anamali
There are many places of natural and scenic beauty in the Annamalai wildlife sanctuary. Some of them are Grass hills, Karianshola, Anaikunthi Shola, groves, waterfalls, teak forests, reservoirs and dams. There are arrangements of exploring the sanctuary on elephant back or by van.
How to Reach Anamalai Wildlife Sanctuary
By Air
The nearest airport is at Coimbatore (Peelamedu airport, 10 km from Coimbatore city).
By Rail
From Pollachi, there are trains to Coimbatore and Dindigul.
By Road
There are regular bus services from Coimbatore and Palani to Pollachi, which is the nearest town. There are two buses a day from Pollachi to the Anamalai park. Taxis from Pollachi are also available for hire.
Travel Advice
It is advisable that travelers should carry easy-to-wear, dull-colored clothes, cotton socks and a pair of sneakers/canvas shoes. Torch, insect repellants, leech lotions, anti- sunscreen and headgear should also be a part of the kit.