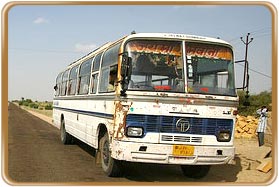 Coimbatore is one of the most-visited destinations in Tamil Nadu, especially from tourism point of view. This is one of the main reasons why it has such a good connectivity, by air, rail as well as road, with all the major cities within the state as well as in the neighboring states. Through this article, we will make you aware of how to reach Coimbatore easily.
Traveling to Coimbatore
By Air
Coimbatore Airport is situated at a distance of 12 km from the heart of the city and is well connected with the key cities of India, such as Delhi, Mumbai, Bangalore, Chennai and Kozhikode (Calicut). An international flight, to Sharjah (UAE), also operates from here. From the airport, you can either hire a taxi or take an auto rickshaw to the main city.
By Rail
There are two railway stations in the Coimbatore city, Coimbatore Junction and Coimbatore North Railway Station, of which the latter is the main one. Many important trains pass through the city, like Trivandrum New Delhi Kerala Express, Trivandrum-Nizamuddin Express, Coimbatore-Nizamuddin Kongu Express (Delhi bound), Kanyakumari-Bangalore Express, Bangalore-Coimbatore Intercity Express (Bangalore bound), Chennai- Coimbatore Cheran Express, Chennai-Coimbatore Kovai Express, Chennai-Coimbatore Intercity Express (Chennai bound) etc.
By Road
Coimbatore is a place that is easily accessible by road. The State Transport Corporation and a lot of private operators operate regular bus services between Coimbatore and all the major cities of Tamil Nadu and also the states of Kerala and Karnataka. If you want to drive down to the city, keep in mind that NH47 is the main highway that connects it with the rest of India.