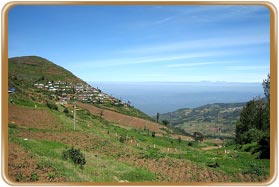 Velliangiri Hills count amongst the lesser-known hill stations of Tamilnadu. Of all the mountain shrines in Kongunadu, the Siva temple of Velliangiri in the western boundary is considered to be the most famous. Known as Rajathagiri, Velliangiri, Dakshin Kailash or Bhoolok Kailash, this sacred spot, according to legend, is where Siva performed his cosmic dance on the request of his consort Umadevi. The five faces of Lord Shiva, Brahma, Vishnu, Rudra, Maheshwara and Sadasiva, are seen as Panchagiri and as Panchalingas pertaining to the panchabhutas, in Velliangiri. The hill ranges have abundant natural resources, which include rare herbs. Lord Panchalingesa and his Consort Manonmani Amman alias Parvathi, bestow their grace on the devotees who throng here annually between February and May.
Festivals
A unique feature of Dakshina Kailash is the annadhanam organised by the Arya Vaisya jewellers for the past two centuries, for four days during Mahasivaratri. It is now carried out with all earnestness and enthusiasm, by the jeweller community and the Lala group.
Getting There
At present special buses ply between Coimbatore and Poondi only on festive occasions. Coimbatore is on the international circuit with flights connecting it to Sharjah. On the domestic front it is connected to Kozhikode, Chennai, Kochi, Bangalore, Mumbai and Delhi. The place is also well connected by both rail and rail.
Staying
Tourists can unpack at the economical standard hotels available in Coimbatore.