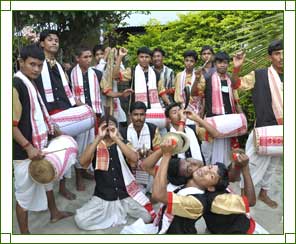 Bihu dance is the most popular folk dance of Assam and as its very name suggests, is related to the Bihu festival, which is celebrated with pomp and glory within the state. The festival is mainly a celebration of the different phases of cultivation and is observed by all the Assamese, irrespective of their caste and creed. There are three types of Bihu festivals celebrated in Assam - one in the month of April (Bohaag Bihu), one in mid-January (Maagh Bihu) and the third one in mid-October (Kaati Bihu).
One of the major forms of merriments during Bihu festival comprises of dancing to the enthralling beats of Dhol and Pepa (buffalo hornpipe). Apart from Dhol and Pepa, other traditional instruments used in the dance include tala (a cymbal), gogona (a reed and bamboo instrument) and toka (a bamboo clapper).Young girls dressed in the traditional attire of the state, Mekhela Chaddar, and adorned with typical Assamese jewelry, like the Gaam Kharu and the Loka- paro, sway to the tunes and the beats of the local Assamese songs. Boys, on the other hand, wear Dhoti and Gamocha.
Bihu geet (songs), sung during the festive season, accompany Bihu dance and have become almost like a heritage for the people of the state, the lyrics being handed down from one generation to the next. The theme for the song may vary from welcoming the Assamese New Year to describing the daily life of a farmer, from historical references of invasions to Assam to contemporary socio-political commentary in a satirical way. Due to the intermingling of the different ethnic tribes and races, several forms of the Bihu dance have emerged in the state. However, the basic concept of the dance remains the same i.e. to express the desire to feel both pain and happiness.