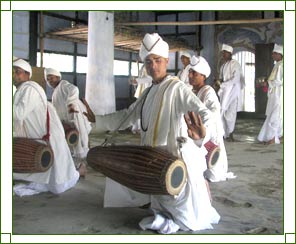 Satriya dance is a renowned classical dance of Assam, which was introduced by Srimanta Shankardev to propagate the religion of Vaishnavism. This form of dance is one of the eight principal classical dance forms of India and has a great cultural significance in the social scenario of the state. The basic aim of the Mahapurush, behind Satriya dance, was to preach to the common people the religious teachings that were commonly inaccessible to them. By doing so, he wanted to attain a new social and cultural frame for the people of Assam.
Although Satriya dance was evolved by the Mahapurush in the 15th century, as an appendage to the Ankiya Nat (a form of one- act play), it was only during the early part of 16th century that the dance started gaining the attention of natives. This was mainly because of the exclusive creativity and imagination lent by Mahapurush Mahadev, the prime follower of Srimanta Sankardeva. Satriya dance is basically divided into three types - Guru Vandana, Ramdani and Geet Abhinaya.
The Guru Vandana and Ramdani are performed without any form of music, while the Geet Abhinaya relates the childhood tales of Lord Shri Krishna. Among the genres, the ones worth mentioning are the Apsara Nritya, Behar Nritya, Chali Nritya, Dasavatara Nritya, Manchok Nritya, Sutradhara Natua Nritya, Rasa Nritya, Jhumura and the Nadu Bhangi. A major addition to the Satriya dance form was the Mela Naach, which earlier used to be a separate entity performed by skilled artists.
The traditional way of performing Satriya dance was seen in the Vaishnavite monasteries (Sattras), by male monks called Bhokots. With the changing time, modifications were made in the original form and the dance is now performed even on the stages of Kala Kendras and the likes. Though the origin of this dance was in the island of Majuli, the prime destination today, to see the Saytriya dance, is Titabar. An annual Satriya dance competition is also held in Guwahati during the winter season (November- February). Besides this, Satriya dance is also performed on open stages during the Bihu festival of Assam.