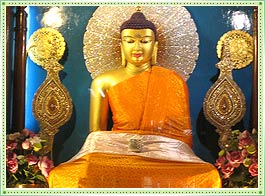 Nalanda is a popular Buddhist site and tourist destination. Buddhists from all across the globe flock to see the land of Lord Buddha. Nalanda, once housed the oldest university of human history, is connected with major cities of Bihar by modern mode of transportation. Nalanda is part of famous 'Buddhist Circuit' which connects all the places associated with Lord Buddha.
Once you are at Nalanda, you can visit other famous and popular tourist destinations at near by places. Nalanda being centrally located provides you the opportunity to visit many near by places which are in its diameter. Find more about the tourist places near Nalanda here.
Gaya
For the believers of the Hindu faith Gaya is the most sacred place. Hindus believe that an individual goes to heaven if his last rites are offered under the celebrated 'Akshayabat' or immortal banyan tree, in Gaya. The Vishnupad Temple was renovated by Holkar queen Ahilyabai of Indore.
Bodh Gaya
Bodh Gaya is one of the most sacred places for the Buddhists. Buddhists from all over the world come to Bodh Gaya to explore the place. Gautam Buddha, the founder of Buddhism, attained enlightenment at Bodh Gaya under the Bodhi Tree. Besides the Bodhi Tree, there are other places of interest such as the Mahabodhi Temple, which houses a huge statue of Lord Buddha.
Rajgir
Rajgir is the place where Buddhism and Jainism meet together, not because of the commonness in the teachings but due to the fact that the place is relevant both for Buddhists and for Jains equally. Rajgir was the capital of Magadh Empire during Buddha's period and the first Buddhist summit was held here only. Some major tourist attractions at the place are Jail of Bimbisara, playground of Jarasandha, Venuvana, Karand tank, Maniyar math, Swamabhandar cave, Pippala cave, and Viswa Shanti Stupa.
Bihar Sharif
Located 13 kilometers away from Nalanda, Bihar Sharif was once the capital of the Muslim Governors of Bihar between 13th and 16th centuries. The place houses the tomb of Malik Ibrahim Vaya. It is a beautiful tomb constructed on top of the rocky hill. Hanuman Mandir at Badi Pahari, and prison of Jarasandh are another major tourist attractions at Bihar Sharif. Also, the place has the mosque of 14th century Muslim saint Makhdum Shah Sharif-ud-din.