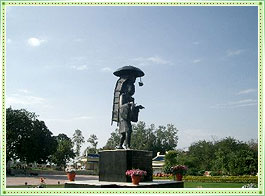 Hiuen Tsang Memorial is one of the major tourist attractions in Nalanda. Hiuen Tsang Memorial is erected in the memory of the famous Chinese traveler Hiuen Tsang. During the glorious days of Nalanda University, Hiuen Tsang came to study Buddhism and mysticism in India. He came in India in 633 AD i.e. during the Gupta period and stayed at Nalanda University for twelve years. He traveled the whole India during his stay at Nalanda.
Acharya Shil Bhadra was his teacher from whom he learned Yoga at the place of the present memorial hall. Later on when the memorial hall was destroyed another construction was done at the same spot in the memory of Hiuen Tsang. Hiuen Tsang was a compulsive traveler; he traveled extensively the whole of India. He visited Takshashila, which was a Buddhist center of learning for further extension of dimension of his learning.
According to a legend, Hiuen Tsiang's visit to Nalanda Mahavihara was towards the fulfillment of his life-long wishes. He ever wanted to study in India and learn Buddhism. He appreciated Indian hospitality and ambience for study and profound learning. He learned Buddhism and Yoga from Shilabhadra and Buddhabhadra. Both the teachers who taught him were of great intelligence and Hiuen Tsang learned a lot of things from them. Study of medicine, crafts, linguistic, and craft was done at the famous university.
Hiuen Tsang returned to China in 645 AD and he opted for the same route which route has had come from. On his way to China he lost many crucial documents which were highly relevant for Buddhist studies. On his way to China he stayed at Kusha and Kashghar monasteries and collected some documents and information relevant for Buddhism which he had lost in Indus River. On his return to China, the emperor built a pagoda at the southern gate of the Hogn-Fu temple in Si-gan-fu and entire collection of Hiuen Tsang was kept and protected in it.
Hiuen Tsang had collected relics, golden and sandalwood statues of Lord Buddha, 224 books of the sutras, 192 Shastras, 15 works of the Sthavira schools, 67 books of the Sarvastivada school, and 17 works of the Kasyapiya school to take to China. After seeing Hiuen Tsang, Chinese emperor got upset because of his learning of different religion. Later on the king accepted him and gave him royal welcome in the capital of the state and built a library to keep all the documents gathered by Hiuen Tsang in it, which are relevant source of history writing of Buddhism.