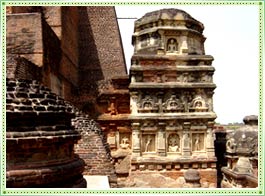 Nalanda is mainly known for its university, though not in existence as of now. The Nalanda University was a flourishing center of higher learning. Other than the university which is in ruins, Nalanda has other tourist attractions that include Nalanda Museum, Buddhist Monasteries, and Nalanda Mahavihar
Hieun Tsang Memorial Hall
The memorial was built in the memory of Hieun-Tsang, the famous Chinese traveler and scholar. Hieun Tsang came to India in fifth century AD and studied at the famous university of Nalanda. He stayed at the place for twelve years and wrote in great length about the people and society of contemporary India. Historians consider his writing authentic and relevant and his writings form a great source of information on ancient India.
The remnants of Nalanda University
Nalanda University, once great center of higher learning, is now in ruins. The ruins of Nalanda University take you to the glorious past. The ruins of the university are spread in 14 hectares. Chinese traveler Hieun Tsang writes that the university had more than ten thousand students and more than one thousand faculty members. Students from Java, Sumatra, Sri Lanka, and other near by countries would come to study at the Nalanda University. Buddhism, spirituality, Vedas, and other life sciences were the subjects taught here.
Nav Nalanda Vihar
In the year 1951 Indian government decided to reestablish the past glory of Nalanda and in this effort it decided to institute a center of higher learning. The center aims to study Buddhism and its essence in modern times. Near the place is another institute which aims to research the ancient language Pali, which is now out of tongue in India
Kundalpur
Kundalpur is located at the distance of 1.6 kilometers from the remnants of the Nalanda University. The place is an important destination for Jains, particularly for the Digambar sect of the Jains. Digambar Jain followers believe that the 24th and the last Tirthankar, Lord Mahavira was born here. Being linked to Mahavir's birth place, people built many temples at the place which are major tourist attractions here.
Surya Mandir
Surya Mandir houses numerous statues of Hindu gods and goddesses. Located adjacent to ruins of the University of Nalanda, the temple has Buddha's statues other than the statues Hindu deities. The temple is primarily dedicated to Sun God which reminds us of Greek god 'Apollo.'
The Museum
Any society which has a glorious history wants to save the same in various methods, and one of them is to preserve all those historical materials in a museum. The museum meant to preserve the golden past of Nalanda was instituted in the year 1971. The museum has a huge collection of ancient manuscripts and Buddhist statues. Archeologists found these manuscripts during excavation of the sites at Nalanda.