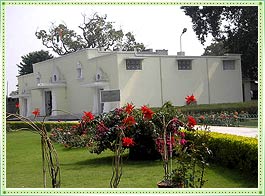 Heritage and culture are something which every nation is proud of. Each civilized country in the world has tried to preserve its heritage and the sources from which history of the nation is sketched upon in museums. India too has a great heritage, and university at Nalanda is one such heritage which needs care and preservation. Keeping all these things in mind government of India in the year 1917 established Nalanda Archeological Museum at Nalanda. The museum houses the antiques found at the excavated site at Nalanda University which is in ruins since twelfth century AD.
Nalanda Archeological Museum has a collection of more than 13463 antiques. Out of these 349 are on display in the four galleries of the museum. These antiques found in Nalanda date back to fifth century. Since the university was vandalized by the Turkish invaders in twelfth century, all the collection is of before twelfth century.
The antiques that have been found at Nalanda including sculptures of stone, bronze, stucco, and terracotta have been kept in Nalanda Museum. The main gallery of the museum shows sixteen sculptures inclusive of Trailokya Vijay, Bodhisattva Avalokiteshvara, Maitreya, and Buddha in Varad, Dharmachakra and Bhumisparsh posture, Samantbhadra, Parshvanath and Nagaraj. The huge collection of the antique products kept here shows that Buddhism had great influence in and around the region and people followed Dhamma.
The museum at the third gallery displays some ninety-three specimens of bronze sculpture including two images of Buddha in boon giving posture, Tara, Prajnaparmita, Loknath, Bodhisattava padmapani. Another sculpture shows Lord Buddha in earth touching posture at Nalanda Museum. Other than these the images of Lord Ganesh, Surya, Kamadeva, Indrani and Vishnu, etc. of Brahminical religion are found in Nalanda Museum.