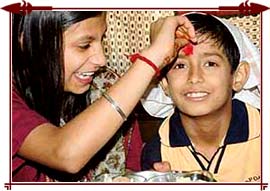 Bhai Dooj Festival is celebrated in the month of October or November. The date is not fixed and is calculated every year by the Pandits. It falls on the new moon night, approximately one day after the festival of Diwali. The name Bhai Dooj, with "bhai" meaning brother and "dooj" meaning the second day after the new moon (the day of the festival), literally means the day of the brother. Bhai Dooj is also known as the festival of Tikka. The festival of Bhaiya Duj signifies the bond of love between a brother and a sister. The sister applies tilak (saffron and vermilion) on the forehead of her brother, performs aarti and offers sweets. In return, the brother blesses her and gives her nice presents. These presents form a part of Tikka celebrations in New Delhi, India also.
There are a number of legends associated with the festival of Bhai Dooj. One of the legends has it that Yamraj, the God of death, visited his sister Yamuna on the day of Bhaiya Duj. She adorned his forehead with the auspicious tilak (saffron and vermilion), garlanded him and fed him with special dishes and sweets. At the time of leaving, Yamraj gave her a special gift as a token of his adoration and in return she also gifted him a present that was made by her. On that day Yamraj announced that anyone who receives tilak from his sister would never be thrown into hell. From that day onwards, Bhaiya Dooj is celebrated and is also known by the name of "Yama Dwitiya".
Another legend goes that Lord Krishna went to his sister, Subhadra's house, after annihilating Narakasura demon. She welcomed him with arti (lamp), flowers and sweets. Thereafter, she put the Tikka, holy protective tilak, on his forehead. From that day onwards, the festival of Tikka is celebrated as a mark of affection between brothers and sisters. Following these legends, it has become the tradition that it is the brother who goes to his sister's house to celebrate Bhai Dooj and not the other way around.