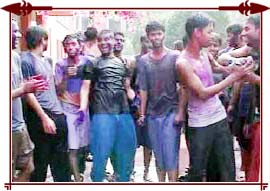 Holi festival is celebrated in the Hindu month of Phagun (Month), on a full moon day. It is the festival of colors and involves smearing each other with gulal (colors) and throwing water on each other. There are a number of legends associated with the origin of the Hindu festival of Holi. One legend has it that on this day Holika, an evil demoness, tried to burn Prahlad, a devotee of Lord Vishnu. However, she failed and instead, was burnt to death. Another legend is that on this day Lord Krishna burnt Demon Hoda and killed Demoness Putana.
Yet another legend associated with Holi is related to Kamadeva, the Hindu God of love. To help Parvati in getting married to Lord Shiva, Kamadeva tried to disrupt His penance by shooting his weapon at the Lord. Enraged by this act, Shiva opened his third eye. The gaze that fell on Kamadeva was so powerful that the Love God got burnt to ashes. Moved by the pain of Rati (wife of Kamadeva), Lord Shiva brought him back to life, but only as a psychological image. The bonfire lit at Holi is believed to be a commemoration of this event only.
On the evening before Holi, people make bonfires and worship fire. The Holi festival in Delhi is just like the rest of India and is incomplete without the consumption of bhang, a crude derivative of cannabis. Bhang drinks, bhang sweets and bhang paan (betel leaves) are all very common at the time of Holi. Holi celebrations in New Delhi, the capital city of India, are all about having fun and immersing one in the festivities. People of all age groups, be it young, old or children, celebrate this festival with great zeal and fervor.