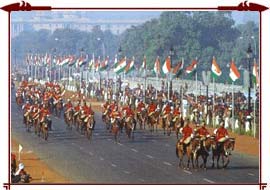 Republic Day commemorates the adoption of the constitution of India. On 26th January 1950 India adopted its new constitution and became a Republic. From that year onwards, 26th January is celebrated as the Republic day of India every year. The day has been declared a National holiday since then and all the commercial as well as educational establishments observe holiday. Although Republic Day celebrations in India take place in each and every city, the celebrations at Delhi are much grand in scale. The chief guest of the Republic Day festival at Delhi is generally a high-ranking dignitary of a foreign country.
The festivities of the Republic Day in Delhi start with the Presidential address to the nation. It is followed by awarding of the medals of bravery by the President of India. The medals are awarded both, to the personnel of the armed forces as well as civilians, for their exceptional courage and bravery in the time of crisis. However, the highlight of the festival is the National Republic Day Parade on the Rajpath. The parade starts from Rajghat and moves along the Vijaypath. The parade marches past the national flag, saluting the President of India and the other officials, enroute.
It consists of the personnel of armed forces, NCC cadets and school children (selected from numerous schools and colleges of Delhi and outside). After the parade, the next major attraction is a colorful procession of various caravans (jhakiyan) belonging to different states of the country. Each of the caravans has a different theme and depicts the major features of its state. For ex: the caravan of a particular state may show people dressed in a typical attire of that state, etc. The cultural diversity of India comes to the forefront through these caravans. Republic Day revelry is also watched by millions of people sitting at home live on the National Television.