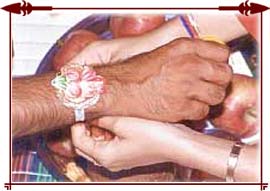 Raksha Bandhan festival is celebrated amongst Hindus throughout the world. The festival of Raksha Bandhan celebrates love and affection between a brother and sister. It falls in the Hindu month of Shravan (generally August). However, the date is not fixed and is calculated every year. Also known as Rakhi, it involves tying of a thread, known by the same name, on the wrists of brothers by their sisters. In return, the brothers promise to protect their sisters from all the hazards and harmful influences in her life. Traditionally, first a thali is prepared and the girl does arti of his brother, ties Rakhi on the wrist and puts some sweets in his mouth.
During the festival of Raksha Bandhan in Delhi, the markets are flooded with traditional as well as modern types of Rakhis. These days, Rakhis are decorated with all sorts of things like cartoons, film characters, toffees, etc. Even gold and silver bracelets are tied as Rakhis. Rakhi celebrations give families a chance to take a break from the hectic city life and spend some time with their family. There are a number of legends associated with the festival of Raksha Bandhan.
The "Bhavishya" Purana mentions a battle between gods and demons. Fearing the defeat of gods, Indra (king of the gods) felt disheartened. At that point of time Sachi, the wife of Indra, charged a thread with Mantras (sacred verses) and tied it on his wrist for protection. It is said that because of the power of that sacred thread Indra defeated all the demons. From that day onwards, the festival of Rakhi is celebrated amongst the Hindus. It is also believed that Emperor Humayun had received a Rakhi from the queen Karmavati of Chittor. So, in the performance of his brotherly duty, he protected her from his own soldiers. Such is the power of this sacred thread.