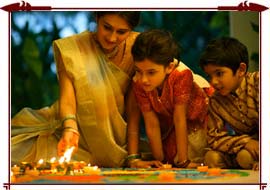 Diwali Festival is also known by the name of "the festival of lights". One of the major Hindu festivals, it is celebrated almost in each and every city of India. There is a legend associated with this festival. It is believed that Demon King Ravana had kidnapped Sita Mata, the wife of Lord Rama, while they were undergoing their 14 years of exile. Lord Rama defeated and killed Ravana and rescued Sita Mata. With this, their period of exile got over and Lord Rama and Sita Mata returned to their kingdom Ayodhya. As a measure of welcome, the people of Ayodhya lit their homes with diyas (earthen lamps).
Since that time onwards, this day is celebrated amongst the Hindus of India with much fanfare. The days leading to Deepavali are spent in cleaning up and decorating the house. Diwali season also holds special relevance for the shopkeepers, since, in the days before the festival people shop a lot for themselves, their home, their family and friends. Exchange of gifts and sweets between friends and families is one of the traditions of Diwali. It is one of the busiest seasons as far as the shopping is concerned. Most of the big companies also offer super discounts and bonanzas to encourage people to shop more.
During the festival of Deepavali, Delhi city also wears a festive look. The markets as well as homes of the people are beautifully decorated with flowers and lights. Some people even make Rangoli (designs made on floor with colors) on the entrance of their homes. On the day of Deewali, people decorate the entrance and top of their homes with diyas and electric lights. Also, on this day, people worship Lord Ganesha and Goddess Lakshmi to bless them with prosperity. Deewali celebrations in New Delhi, the capital of India are incomplete without the lighting up of crackers, by both the adults as well as the children.