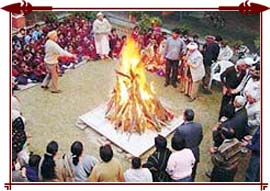 Lohri Festival is celebrated every year on 13th of January (Hindu month of Paush or Magh). It is the harvest festival of Punjab, which welcomes the onset of spring season and the end of the winter season. The festival of Lohri marks the entry of the sun in the rashi (zodiac) of Makara (Capricorn). It is considered as a very propitious day as it represents a new start. The first Lohri in a family, after marriage of a son or birth of a child, has special significance and is celebrated with much elaboration. Though it is a native festival of Punjab, it is celebrated in the capital city of Delhi with equal enthusiasm.
The festival of Lohri at Delhi is celebrated amongst the Sikh and Hindu population. The festival consists mainly of worshipping the fire. A bonfire of wood and cattle dung is lit after sunset and people gather around to celebrate. Thereafter, sweets, peanuts, puffed rice and popcorn are thrown into the flames and a mixture of water and unboiled milk (Kachi Lassi) is poured all around it. Lohri celebrations in New Delhi, the capital of India are incomplete without singing and dancing, especially the traditional dance of bhangra and gidda and the folk songs.
There is a legend associated with the festival of Lohri. It is said that there was once a Muslim highway robber known as Dullla Bhatti. He was a sort of the Indian version of the Robin Hood. He used to intimidate the prosperous people of Punjab and rob them of their riches. However, he was a savior of the poor and even rescued Hindu girls from being sold off in the slave markets. Consequently, he attained the status of a hero amongst the Punjabis and till today, folk songs praising him are sung on the occasion of Lohri.