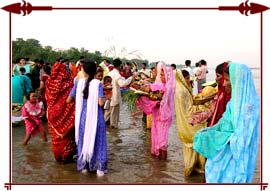 The Chhath Festival is basically a major festival of Bihar, but is celebrated with equal devotion in Delhi as well. This festival, which honors the Sun God, is celebrated six days after the festival of Diwali. The Chhath puja celebrations do not include much fanfare, rather, it is a festival of prayer and propitiation that is undertaken with somberness. Through this festival, people express their thanks and seek the blessings of the forces of nature, mainly the Sun and river. It is believed that the prayers of the devotees are always answered during the festival and, at the same time, they are also punished for doing any misdeed.
More than festivities, festival of Chhat Puja in Delhi involves a sacrifice on the part of the devotee, which leads to his purification. For Chath celebrations in New Delhi, several ghats (embankments) are reserved at the river Yamuna in the city. The puja takes place at these ghats only. Performed both by men as well as by women, the puja preparations start with the end of Diwali. Through the period, an austere lifestyle is followed. First of all, the house is cleaned and the family members of the person doing the puja take a holy dip. Throughout the festival of Chhath, the food prepared is saltless and totally vegetarian, without even onions and garlic. Even the vessels used are mostly earthen and people sleep on the floor.
The person who performs the Chath puja observes a fast from dawn to the dusk and ends by eating sweets. Thereafter, another fast is observed that continues for thirty-six hours and ends on the dawn of the final day. On the final day, the puja starts at the bank of a river some time before sunrise. People who perform the puja remain in river water from late midnight till the time the first ray of sunlight touches the earth. From that time onwards, devotees start flooding the river with offerings to the Sun God. This is followed by the distribution of the prashad amongst the devotees.