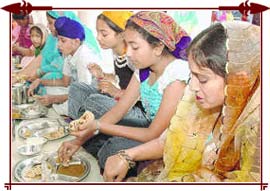 Guru Nanak Jayanti festival commemorates the birthday of Guru Nanak Dev the founder of the Sikh faith. Guru Nanak Dev was born in the Hindu Month of Kartik (October-November) in 1469 AD at Talvandi, almost 30 miles from Lahore. Sikhs celebrate the birthdays of all the ten gurus and call them Gurpurabs. Just all the Gurupurabs, on the celebrations of Guru Nanak Jayanti also start with the early morning procession that starts from the Gurdwaras (Sikh temples), with people singing 'shabads' (hymns).
The procession also carries the holy book, Guru Granth Sahib, on a float decorated with flowers. The procession is headed by the Panj Pyares (five armed guards) that carry Nishan Sahib (the Sikh flag). Throughout the procession, religious music plays in the background. Then, there is a three-day Akhand path, reading of the Guru Granth Sahib, in full continuously and without a break. The path ends on the day of Guru Nanak Jayanti. Free sweets are distributed and langar is also served in the Gurdwaras to everyone irrespective of religious faith.
On individual level, Sikhs visit the local Gurdwaras on the day of Guru Nanak Jayanti. They also participate in karseva (service to the community) and cook food for the langar and distribute it amongst those who visit the Gurdwara. Festival of Gurunanak Jayanti celebrations at Delhi also includes the singing of kirtans (religious songs). As a part of Guru Nanak's Birthday celebrations in New Delhi, the capital of India, the Sikhs visit the most revered gurudwara of Delhi, Bangla Sahib. Devotees also light up their homes as well as the Gurdwaras to further enhance the festive spirit.