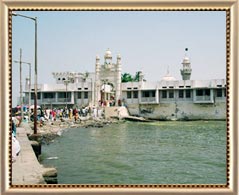 Haji Ali Dargah is one of the most popular religious places in Mumbai, visited by Hindus and Muslims alike. It is basically the tomb of Haji Ali, a wealthy merchant who renounced all the worldly possessions and became a saint, after he returned from a pilgrimage to Mecca. Along with the tomb, there is also a mosque at Haji Ali. There are two different accounts of how the tomb of Haji Ali came into being. As per one version, the saint drowned in the sea and his devotees built a tomb at the spot where he died.
Another version goes that Haji Ali died on his pilgrimage to Mecca and his body was put in a casket. The casket is said to have floated back to Bombay, stopping near the rock bed on the sea here. The place where his casket was found later served as the venue of his dargah (tomb), built by his devotees. Haji Ali Dargah is situated on an islet, in the middle of Worli Bay, located off the coast of Worli. It is visited by a large number of devotes every day. The rush particularly swells on Thursdays and Fridays.
The 500-yard causeway that leads to the Haji Ali Mosque is not surrounded by railings. Since it is lashed by sea waves, one can visit the dargah only when the tide is low. The location of the mosque serves as one of the major attractions luring tourists here. With the sea forming as the backdrop, Haji Ali becomes a sight to behold. The entire structure is spread over an area of around 4,500 m and stands adorned with an 85 foot high tower. Inside the mosque complex, one finds the tomb supported by a magnificent silver frame.
Covering the tomb of Haji Ali is a brocaded red and green chaddar (sheet made of cloth). The main hall of Haji Ali Mosque is supported by marble pillars, beautified with colored mirror work. One can find the ninety-nine names of Allah written on the pillars. The last repair at the dargah took place in the decade of 1960, with permission from the Central Government of India. Situated in the midst of the sea, Haji Ali dargah serves as an oasis in the concrete jungle of Mumbai city.