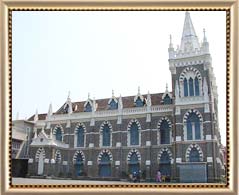 Mount Mary Church is a Roman Catholic Church, also known by the name of 'The Basilica of Our Lady of the Mount'. It is located in the Bandra suburb of Mumbai and dates back to the year 1640. One of the most popular churches of Bombay, it is visited by people of all religions. Perched on top of a hillock, Mt Mary Church stands at an altitude of approximately 80 m above sea level and overlooks the Arabian Sea.
The church is believed to have miraculous healing powers and is thronged by devotees throughout the year. It is said that those who pray here honestly and faithfully get their wishes fulfilled. Though the church was built in the 17th century, its present structure is not more than 100 years old. Situated amidst picturesque surroundings, Mount Mary Church is also famous for providing amazing view of the sunset over the Arabian Sea. The statue of 'Our Lady' situated inside the church dates back to the 16th century.
During that time, the Jesuit priests brought the statue to Mumbai from Portugal and constructed a chapel there. Initially, the statue had a gilt-lined object in its right hand. In 1700, Arab pirates attacked the chapel and broke the right hand of the statue, disfiguring it. Mount Mary Church was rebuilt in the year 1760 and was adorned with a statue of 'Our Lady of Navigators', brought from St. Andrew's Church. The original statue of 'Our Lady' was re-installed in the church in 1761, after being adorned with a child in her arms and is there till date.
Bandra Fair
Every year, on the Sunday following the 8th of September, the 'Feast of Mount Mary', is held at the Mt Mary Church. 8th September is the birthday of Mother Mary, the mother of Jesus. The celebration of the feast lasts for a period of seven days and is termed as the Bandra Fair. During the time of fair, thousands of devotes visit the fair, seeking the blessing of the Holy Mother. It is the time of celebration, of festivity, the time when the church is beautifully decorated.
In the fair, a large number of stalls come up, which sell numerous religious objects, along with roasted grams and sweet items. Then, there are other stalls that sell wax idols of the Virgin Mary and sticky Goan sweets. You can also find a beautiful collection of candles there, of different shapes like hands, feet and other parts of the body. The sick people buy candle of the shape of their ailing part and light it in the church, in the hope that the Holy Mother will cure them.