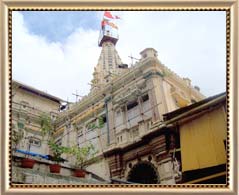 Mumba Devi Temple, situated in the Bhuleshwar locality of Mumbai, is dedicated to Goddess Mumbai Devi - the patron deity of the city. The term 'Mumba' means 'Maha Amba' (the Great Mother). Thus, Mumba Devi is believed to be an incarnation of the Devi (the Mother Goddess). The temple was initially constructed in the year 1737, at the same site where the Victoria Terminus is presently situated.
It was constructed by the Koli fishermen, who are said to be the original inhabitants of Mumbai. However, sometime later it was demolished and a new temple was built in its place - at Bhuleshwar. The present-day temple of Mumbadevi enshrines a beautiful image of Mumba Devi, the orange-faced Goddess, adorned with a silver crown, a nose stud and a golden necklace. She is seen wearing a beautiful robe.
A stone idol of Goddess Annapurna, seated on a peacock, is situated on the left of the Goddess. The idol of Goddess Mumba Devi does not have a mouth and is believed to be a local representation of the Mother Earth. The other idols enshrined at the Mumba Devi Temple of India include those of Lord Indra, Lord Ganesha and Lord Hanuman. The temple is open from Tuesday to Sunday and is held in high regard by the local people of Mumbai.
Legend
There is a very interesting legend associated with the Mumbadevi Temple of Bombay. It is said that there was once a cruel giant Mumbaraka, who used to wreak havoc over the city. The people prayed to Lord Brahma to save them from his tyranny. To protect them, the Lord created an eight armed Goddess from His own body. She defeated the brute, who realized his mistake and pleaded the Goddess to take his name. He then built a temple in Her honor.