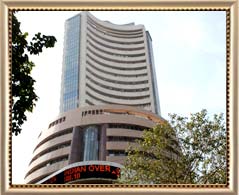 Mumbai is home to two of the most important stock exchanges in India - the National Stock Exchange (NSE) and the Bombay Stock Exchange (BSE). BSE is believed to be the oldest stock exchange of Asia and reaches out to as many as 417 cities and towns. The brokers at the stock exchange deal in equity, debt instruments and derivatives. Located at the Dalal Street of Mumbai, the Bombay Stock Exchange provides a well-organized and reliable market for dealing in various securities.
The stock exchange was set up in the 1875 and till date, 4,800 Indian companies have listed themselves with it. Some time back, Singapore Exchange made a strategic investment of 5 percent in the Mumbai Stock Exchange of India. BSE Sensex (Sensitivity Index) is also known by the name of BSE 30 and is used commonly in a number of Asian countries. It is value-weighted index, which has the base of April 1979 as 100 and comprises of thirty scrips.
The basic companies that make up the index of the stock exchange have undergone very little changes since 1875. Most of the companies that were present in the past are still there. The companies that make up the index of the Bombay Stock Exchange account for around one-fifth of its total market capitalization. A huge screen has been put at the Mumbai Stock Exchange by NDTV, where the latest stock quotes from the market are displayed.