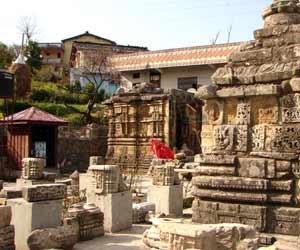 Baleshwar Temple
Baleshwar temple, was built during the reign of Chand dynasty, is located in the heart of Champawat city. The presiding deity of this temple is Lord Shiva. The temple is known for its magnificent stone carvings.
Nagnath Temple
Known for its wonderful ancient Kumaoni architecture, Nagnath temple is also dedicated to Lord Shiva. The temple was destroyed by the Rohilla and Gorkha invaders in 18th century. Today, the glorious carved doorway and a double storey wooden structure, the temple's only remains, tell the tale of its magnificent architecture.
Mayawati Ashram
Located at about 22 km from Champawat, Mayawati Ashram is a major centre for spiritual learning in Uttarakhand. People in search of spiritual satisfaction come here from various parts of India and abroad.
Vanasur-Ka-Kila
Vanasur-Ka-Kila is a fort located approximately 20 km away from Champawat, at an elevation of 1859 m from sea level. A legend about the fort goes that the assassination of Vanasur, a demon, took place here.
Ek Hathiya ka Naula
Approximately 5 km away from Champawat, Ek Hathiya ka Naula is a uniquely structured place. It is said to be constructed by one-handed artisan, overnight.
Kranteshwar Mahadev
Dedicated to Kandev, Kranteshwar Mahadev temple is situated at a lofty hilltop, in the east of Champawat. It is also called 'Kumarpad'.
Lohaghat
Lohaghat is a small town situated on the banks of Lohawati River, in Tanakpur district. It is basically known for housing a number of beautiful temples, scenic beauty and historical-mythological associations. Apart from that, this place is also famous for its grand Holi and Janmashtmi celebrations.