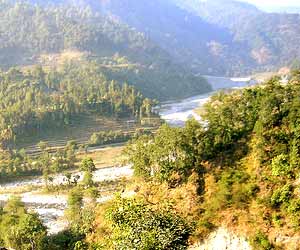 Lohaghat is located within Champawat district of Uttarakhand state in India. It is a quiet little hill station, blessed with natural beauty in abundance. Situated at an elevation of 1645 meters above the sea level, Lohaghat is often referred as one of the most scenic places in Uttarakhand.
The beautiful hill station of Lohaghat is situated along the banks of river Lohawati. Nestled amidst tall pine and oak forests, Lohaghat promises to enthrall any visitor with its scenic splendor.
Lohaghat is an idyllic destination to holiday. For those searching for a resort to retreat from the maddening crowds of usual urban surrounds, Lohaghat is where their search ends. The town's old world ambience is sure to do wonders in calming your soul and rejuvenating your flagging spirits.
Interesting Places To See In Lohaghat
The Town
Interestingly, the bus stand is the focus of all activity in this beautiful little hill station. The market place which is small but busy has a handful of eateries and shops selling all essentials that you may require. A walk though the town gives you a feel of a tiny hill settlement whose culture has yet not been eroded by regular urban developments that have completely taken over most of the hill stations of India. There are a couple of old buildings in the market place, bearing beautiful wood carvings which will give you a glimpse into the town's rich heritage.
Lohawati River
The town is situated on the banks of pristine Himalayan river - Lohawati. A walk by the river side is a soothing experience. Also you can visit, a relatively new temple of Rikeshwar Mahadev, dedicated to Lord Shiva. The temple is located outside the main town, on the banks of river Lohawati.
Places To See Around Lohaghat
Some interesting places you must visit around Lohaghat are:
Advait Ashram, Mayawati
Banasur Fort
Mount Abbot
Pancheshwar
How To Reach
By road, Lohaghat is well connected with important destinations of the region like Champawat (14 Km), Tanakpur (89 Km) and Pithoragarh (62 Km). The nearest railhead is Tanakpur (89 Km) and nearest Airport is Naini Saini (66 Km) of Pithoragarh.