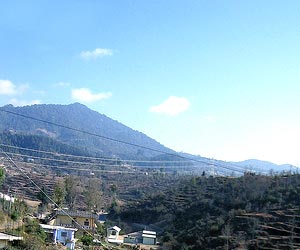 The weather of Champawat is largely influenced by its varied topography that includes mountain ranges, large valleys, uneven landscapes, broken cliffs, rivers and rivulets. Also influencing the weather is Champawat's varying altitude that ranges from 200-2200 meters above the sea level.
The climate (the average trend of weather over the years) of the district is very differential. While Terai area is hot, the hilly regions of the district are very cold. Some of the high mountainous areas are even snow bound. The climatic conditions of Terai areas are similar to the plains. The seasonal rains during monsoon months are as high as 20 cm (annually). Summers in Terai are very hot while the winters very cold. However, climate of the Shiwalik region, lying at the foot of Himalayas is generally remains cool and pleasant throughout the year.
In summers, Champawat district has seen average temperatures within the range of 20-30 degrees centigrade while during the winters the average temperature hovers within the range of 4 - 15 degrees centigrade. However, if considering temperatures on a day to day bases, there have been times when the maximum temperature recorded was as high as 35 degrees during summers while the minimum recorded during winter months goes down to sub-zero levels in the high altitude Himalayan areas.
Depending on what time of the year you visit Champawat, clothing will vary. During winters light to heavy woolens are required, especially so, if your wish to visit higher areas of the district while during summers cottons will work fine.