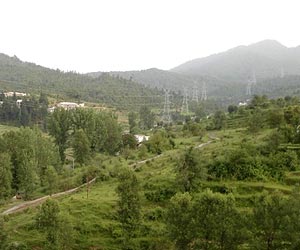 Tanakpur is a quiet little town located on the edge of Tarai areas of Champawat district in Kumaon within the hill state of Uttarakhand in India. Tanakpur is just 3 Km away from the Indo-Nepal border.
Situated at an elevation of 245 meters above the sea level, Tanakpur is a beautifully laid out town by the banks of river Sharda. The roads and pavement of this town are wide and one can comfortably explore Tanakpur on foot.
In terms of things do here, one can choose from a variety of activities like visiting places of worship, taking a stroll by the river side or just walking through the town. Tanakpur is also the doorway to the venerated Purnagiri temple and offers interesting excursions in the areas close by.
Interesting Places To See
Sharda Ghat
This Ghat, well known as Ma Purnagiri Sharda Ghat, is located near the bus stand in Tanakpur. It is here that people bathe to cleanse themselves before visiting the revered Ma Purnagiri shrine which is close to the town. This Ghat is also utilized for performing Hindu religions ceremonies like 'Mundan' (ceremonial shaving of child's first hair). For the locals, this Ghat also serves as a place of socialization. People come here to relax and spend time with friends. Hawkers are seen selling delicious 'chaat' along with other traditional snacks, adding to the joy of the visit.
Panchmukhi Mahadev Temple
This is a famous temple in Tanakpur, dedicated to Lord Shiva in his panchmukhi or five faced form. You can visit the temple for aarti at 7:30 Am and 7:30 Pm on all days.
Purani Jama Masjid
Built around 1886 while the road to Champawat was being constructed, this is a mosque located on the banks of river Sharda, close to the bridge to Nepal.
Tanakpur Methodist Church
This church was built in 1988 with donations from the Parish. It is today the only church in the area within the radius of about 25 Km.
Gurdwara Siri Guru Singh Sahib
This Gurudwara serves as an important resting point for the pilgrims en route Sri Ritha Sahib which is an important Sikh pilgrimage.
Places To See Near Tanakpur
Some interesting places you must visit near Tanakpur are:
Shakti Peeth Purnagiri
Adya Shakti Peeth, Boom
Vivekananda Ashram, Shyamlatal
How To Reach
By road, Tanakpur is well connected with major destinations like Bareilly, Lucknow and Delhi. The nearest railhead is Tanakpur itself which serves as an entry point for the picturesque Kumaon region of Uttarakhand. The nearest airport is Pantnagar airport which is 95 km away.