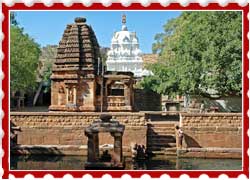 A trip to the town of Badami would be incomplete without learning about the excursions from Badami. Badami excursions tour would take you to some of the exciting destinations around.
Aihole (44 km)
Visit Aihole for a glimpse of the Hindu temple architecture. Aihole was the first capital of the Chalukyan Empire and hundreds of temples dot the scenic landscape of this village. The prominent temple groups are the Kontigudi group and the Galaganatha group.
Banashankari Temple (50 km)
The quaint village of Banashankari takes its name from the goddess Banashankari and the Banashankari Devi temple. The temple features the idol of Banashankari (Goddess Parvati) seated on a snarling lion. The Banashankari Devi fair held annually in January on the full moon day is a colorful affair and attracts a large gathering.
Mahakuta (14 km)
Once an abode of the Shaiva cult, Mahakuta is renowned for the Mahakuteshwara Temple dedicated to Shiva is built in the Dravidian style. The Mahakuta Pillar, discovered near the Mahakuteshwara temple, displays an important Badami Chalukya inscription ascribed to king Mangalesa, second son of Pulakesi I. Dated 595 CE, the inscription provides information about the Chalukya lineage, their military expeditions, their conquests and early monuments.