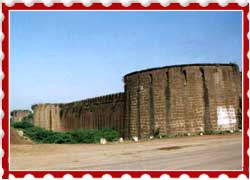 The Belgaum fort is a major tourist attraction in Belgaum. Belgaum was ruled by a number of dynasties and as such the fort has undergone many additions and renovations throughout its existence. The original mud and stone structure of the fort was built by the Ratta Dynasty in the 13th century but it was Yakub Ali Khan of the Bijapur Sultanate who deserves credit for transforming the fort into an invincible fortress surrounded by a deep moat, huge walls, bastions, battlements and parapets.
One of the oldest forts in Karnataka, the Belgaum fort served as a bulwark against the attacks of invading armies. It steadfastly held fort as Belgaum played host to a multitude of dynasties, from the Rattas, the Vijayanagar emperors, Bijapur Sultans, Marathas and finally the British. During the freedom movement of India, Mahatma Gandhi was imprisoned here.
The Belgaum fort is also an embodiment of the legacy of religious tolerance in Belgaum. Nestled within the ramparts of the fort are a number sacred shrines pertaining to different religions. The succession of rulers that held sway at the fort took an indulgent view of the myriad of holy sites. At the entrance, two shrines devoted to Ganapathi and Durga exist in harmony with the two ancient mosques, the Safa Masjid and the Jamia Masjid.