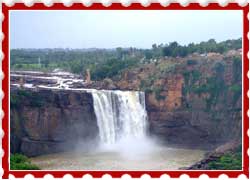 Once you are done with the sightseeing of the Belgaum city, set out to explore the excursions around Belgaum.
Gokak Falls (80 km)
In the Gokak falls, the Ghataprabha River creates a grand spectacle by cascading down from a height of 170 feet. Remnants of ancient monuments from the Chalukya era can be seen on either banks of the rocky gorge.
Yellamma Temple (80 km)
Yellamma temple located in Saundatti is the shrine of Renuka, the wife of sage Jamadagni. The Yellamma Devi fair, held on many occasions between October and February, is a major tourist attraction.
Kittur (44 km)
Kittur is famous for being the birthplace of Rani Chennamma who fought against the colonial rule of the British in 1824. The Bassava temple here contains inscriptions on stone, belonging to the 12th century.
Vajrapoha Falls (30 km)
Nestled amidst the green canopy of Western Ghats, the breathtaking Vajrapoha falls is created by the River Mahadayi tumbling down from a height of 60 meters into a rocky ravine.