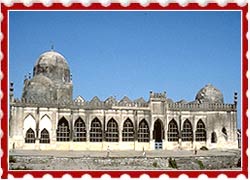 Embark on a Gulbarga excursions tour to explore some of the holiest pilgrimages of Karnataka.
Jewargi (40 km)
Located on the banks of Bhima River, Jewargi is a popular Jain pilgrimage. Many Jain Basadis are present here.
Ganigapur
The pilgrimage of Ganigapur is a renowned seat of Dattatreya worship and locates the sacred math of Shri Narasimha Saraswathi. Devotees flock this place to take a holy dip at the confluence of the rivers Amreja and Bhima. A huge 'jatra' is held here every year in the month of February.
Malkhed (40 km)
The erstwhile capital of the Rashtrakutas, Malkhed is known for two holy shrines, the Jain Bhattaraka Math and the Uttaramath of the Madhava sampradaya. Malkhed was home to Madhava saint, Tikacharya and Pushpadanta, the poet who wrote during the reign of Krishan II, the Rashtrakuta king.
Sonthi
The pilgrimage of Sonthi is well-known for the revered Chandralamba Temple with the sacred Bhima River flowing besides it. On the either side of the main entrance are huge mantapas. In the inner courtyard are 12 lingas and the statues of Mahakali, Mahalakshmi and Saraswathi.