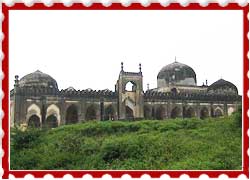 Gulbarga tours will help you delve deep into the legacy of royal dynasties. Tour of Gulbarga is a journey into the past of the Gulbarga city.
Gulbarga Fort
The Gulbarga fort was originally built by Raja Gulchand, a feudatory of the Orangal Kakatiyas. As Gulbarga gained prominence as the Bahmani capital, the fort was fortified by Alauddin Bahman.
Jumma Masjid
Nestled within the ramparts of the Gulbarga Fort, the Jumma Masjid bears a striking resemblance to the great mosque of Cordova in Spain. Built by Muhammed Bahmani in 1367, the Persian architecture of the mosque features stilted domes and narrow entrances. The mosque's unique feature is the roof which contains 68 domes that resemble a collection of gigantic pots. Historians reckon that the Jumma Masjid was built to commemorate Gulbarga's status as the Bahmani capital and is one of the earliest mosques in South India.
Khwaja Bande Nawaz Durgah
The Khwaja Bande Nawaz Durgah, the tomb of the great Sufi saint Syed Mohammad Gesu Daraz (1320-1422), is another major tourist attraction of Gulbarga. One of South India's holiest Muslim shrines, the Durgah is a unique example of communal harmony. The annual urus held at the Durgah is attended by thousands of devotees including both Muslims and Hindus. The dargah library contains nearly 10,000 books in Urdu, Persian and Arabic on subjects ranging from history and philosophy to religion and literature.
Royal Tombs
Gulbarga features a profusion of royal tombs and mausoleums. A complex of seven royal tombs known as the Half Gumbaz lies to the west of the Khwaja Bande dargah. Among the royal mausoleums, the one resting Firoze shah Bahmani is the largest and the most elaborate.