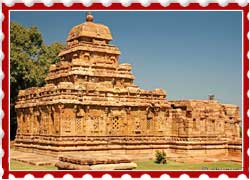 The magnificent 8-th century temples of Pattadakal are major attractions in Pattadakal tours. Do include the Pattadakal temples in your tour of Pattadakal for a glimpse of the rich Chalukyan architecture.
Kadasiddeshvara, Jambulinga and Galaganatha Temples
Kadasiddeshvara and Jambulinga Temples are fine specimens of North Indian-style temple architecture, characterized as they are by the curved towers (shikharas) over the inner sanctum. Galaganatha Temple, the largest of the lot, has a well-preserved tower with sharply cut tiers of horseshoe shaped motifs and a ribbed finial.
Sangameshwara Temple
The earliest of the South Indian style temples, Sangameshwara Temple was built by the Chalukya king Vijayaditya (696-733 AD). As in other South Indian temples, the multistoried temple tower rises in a stepped Pyramidal formation and is capped with a square domed roof.
Virupaksha and Mallikarjuna Temples
The twin Virupaksha and Mallikarjuna temples represent the pinnacle of Chalukya temple architecture. Based on the Kailasanatha Temple in Kanchipurum, the two temples commemorate the victory of King Vikramaditya II over the Pallava rulers of Tamil Nadu. Now the Virupaksha Temple is the only functioning shrine in the sprawling temple complex. Both these identical temples feature exquisitely carved pillars and ceilings decorated with a profusion of friezes from the epics.