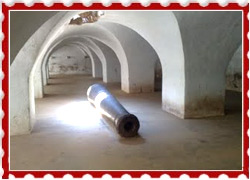 Once the historic capital of Tipu Sultan, Srirangapatnam today, is a definite hot spot for tourists while on an exploratory expedition to Mysore. Srirangapatnam forwards tourists a plethora of attraction places. While the fort and the dungeon unfold the pages of history, the Ranganathaswamy temple is an idyllic place to be in unison with the Almighty. Apart from this, this small town also extends beautiful and mesmeric sites. To get detailed information about the touriost places to see in Srirangapatnam, Karnataka, read through the following lines.
Places to See in Srirangapatnam
Ranganathaswamy Temple
One of the most popular tourist destinations in Srirangapatna, the Ranganathaswamy temple enshrines the deity of Lord Vishnu as Ranganatha. As per history, Ganag ruler Tirumalaiya is believed to have built this temple in the 9th century. Intricately carved, the temple extends tourist finest architecture that is a blend of Hoysala and Vijayanagar styles. Apart from this striking place of worship, there are other temples as well in the complex dedicated to Gowtama muni and the River Cauvery.
Sangam
Picnics are something most urbanites miss on, due to lack of time or place. One of the great ways to rekindle love amongst family members and explore Srirangapatnam at the same time would be to head towards Sangam. A popular picnic spot, it marks the point wherein River Loakpavani joins with River Cauvery. A gorgeous location, tourist can thoroughly revel in the natural beauty. In addition to this, the place is easily accessible by Srirangapatnam.
Colonel Bailey Dungeon
One of the most dreaded yet historically important places, it is where Tipu Sultan's prisoners of war were jailed. The place is so called because Colonel Bailey died in these dungeons in 1780 AD. Turning the pages of history, it is said that Captain Baird, Captain Rulay, Colonel Brithwite, Samson, Frazer and Lindsay were imprisoned in these dungeons. During the confiscation of Srirangapatna, it is argued that one cannon rolled back and fell into the dungeon, piercing the ceiling. Even today the cannon is lying therein.
Darya Daulat Baug
Built by Tipu Sultan in 1784, Darya Daulat Baug, or Summer Palace as it is popularly called, was an alternative place wherein he received his visitors and conducted durbars. The palace extends as a magnificent sightseeing place. Set amidst manicured lawns and flower­beds, the palace is a must-visit site. The interior of the palace is as captivating as its exterior, what with a wealth of paintings hanging on the wall and intricate designing. And if you are fond of watching period furniture, coins, fabulous paintings and murals, the palace is nothing less than a paradise.