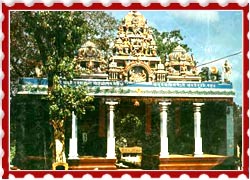 Udupi is one of the famous cities in the Indian state of Karnataka. It is the headquarters of the Udupi district. There are a number of interesting mythological tales that are connected with Udupi. The city is extremely famous for two things – the Krishna temple and cuisines. Talking about the tourist attraction places in Udupi, there are a number of places to see in this historical town. Right from temples which serve to the needs of pilgrims to beaches which are an ideal option of vacationers and holiday makers, the options are endless. To get detailed information about the tourist places to see in Udupi, browse through the following lines.
Places to See in Udupi
Krishna Temple
One of the very famous religious sites in Udupi, Krishna Temple enshrines the deity of Lord Krishna. Set up by the great sage Sri Madhvacharya, the temple has an interesting anecdote connected to it. As per lengend, Kanakadasa, an ardent believer and worshipper of Lord Krishna, was not allowed into the temple. Pleased by the devotion of the devotee, the Lord turned the Krishna statue in a direction which allowed the disciple to regard his Lord's heavenly form, through a little window at the back of the matha. This window is termed as 'Kanakana Kindi' and is an attractive feature of the temple.
Anantheshwar Temple
Located in Manjeshwar, Anantheshwar Temple is well-known as 'Manjula Kshetra' and 'The temple of 18 towns'. The temple has a long heritage that dates back to a thousand years. It is believed that Parasurama upon recovering land from the sea, coroneted his devotee Ramabhoja as a ruler. Unintentionally, he once wiped out a snake. To get himself off from sarpa dosha, he then made a silver peetham with a snake cut out on it. Ramabhoja then installed Parasurama in the linga swaroopam and revered him as Anantheswara. Thus, the temple of Anantheshwar came into being.
Kaup Beach
Located 12 kms southwards of Udupi is Kaup Beach - one of the most beautiful beaches in South India. A lovely site boasting of undisturbed serenity and tranquility, Kaup beach is situated on the coastal belt. For photographers, it is nothing less than a paradise on earth. The 100ft lighthouse on the rocks makes way to be an ideal place to let the camera go on a roll. The place is utmost romantic and blissful. The tinkling sound of the water merges beautifully with the hushes of the breeze, making way for it to be a spectacular place. A walk along the rambling white sand beach and the cool blue water would surely captivate your senses!!