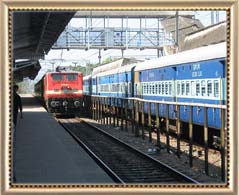 Amravati, a small city in Maharashtra, is believed to be the abode of Lord Indra, the King of all Gods. It falls under the district of the same name and is believed to be one of the major pilgrim destinations in India. One of the major attractions of the city is the Ambadevi Temple, dedicated to Goddess Amba, which lies within its boundaries. A large number of people visit Amravati every year, to pay their respects to the Goddess. Traveling to the city is quite easy; since it has good air, rail as well as road links. In this article, we have provided complete information on how to reach Amravati.
By Air
The nearest airport from Amravati is that of Nagpur, which is well connected with most of the key cities of India. It has regular as well as direct flights to all the metros. Since Nagpur is serviced by both public as well as private carriers, reaching here by air is no problem.
By Rail
The nearesr railway station is Badnera/Amravati. Badnera falls on the Mumbai-Kolkata main line and forms the terminus of the branch line of Central Railway. The city is connected with almost all the parts of the country by regular trains.
By Road
Amravati is well connected with other towns and cities within the state as well as those in the neighboring states with a good network of roads.