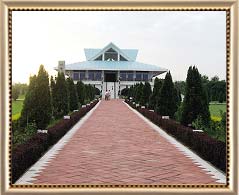 Dragon Palace Temple is a Buddhist temple, situated in Kamptee, a satellite township of Nagpur district. It is dedicated to Lord Buddha and boasts of striking architecture and picturesque landscape. The temple was founded by Mother Noriko Ogawa Society of Japan, in association with Ms Sulekha Kumbhare, the MLA and Minister of State of Water and Sanitation. A unique temple, it has emerged as one of the most popular attractions for the people coming to the district of Nagpur.
Sprawled over an area of approximately 10 acres, Dragon Palace Temple comprises of a magnificent Buddhist prayer centre, which offers peace and serenity to its visitors. Enshrined on the first floor of the Meditation Hall of the temple is a colossal statue of Lord Buddha. The idol is said to have been carved out of a single block of sandalwood. Some time back, Dragon Palace Temple of Kamptee was felicitated with the International Award for the best concrete structure of the world.
The walls of the temple have been painted in a bright white color, which is meant to symbolize calm, clarity and divinity. It is also known as the 'Lotus Temple of Nagpur' and stands encircled by lush green, landscaped gardens, blooming with colorful flowers. Devotees congregate at the temple everyday and chant 'Nangu-Mayo-Ho-Renge-Kyo' during the meditating hours. The Ogawa society has also undertook the responsibility of provided social services, like those of a mobile hospital, a welfare centre, an orphanage & a school for poor.