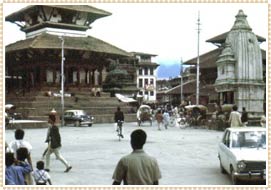 Nepal has many nationalized as well as private banking ventures. The highest authority on the pyramid is The Reserve Bank of Nepal. This is the central bank of Nepal that decides and makes various guidelines for the banking sector of the country. The bank with the largest network in Nepal is The Nepal Bank Ltd. It is closely followed by Nepal Banijya Bank. Both of them have branches across Nepal. Banks are open 9 am to 3 pm Monday through Friday but many of them in Kathmandu are opened through out the week. Apart from that, you have private ventures such as Bank of Kathmandu and Himalayan Bank that operates in most of the areas in Nepal.
As far as foreign ventures are concerned you have likes of Nepal Bangladesh Bank, Standard Chartered Bank, Nepal Arab Bank, State Bank of India, ICICI Bank, Nepal Indo-Suez Bank and Nepal Sri Lanka Merchant Bank that offers their services to the tourists.
ATM
Standard Charted Bank offers ATM service in its different branches in Kathmandu and Pokhra. You can get cash advances on both Visa and Master card. These ATMs are accessible 24 hours a day. One is located down the drive to the Kathmandu Guest House in Thamel, one is next to the Roadhouse Cafe in Thamel, and the 3rd one is located in the bank's head office at New Baneshwor.
Wiring Money
Money can be wired through either Western Union Money Transfer or The Money Gram wired money service in Nepal. You can also transfer money through banks but the process is very tedious and the delivery is seldom on time. Major Nepal banks use the SWIFT system, in place of the older telex systems, to negotiate wire transfers. The major banks also have accounts in New York and other world banking centers to expedite transfers.
General Information
Payment in hotels, travel agencies, and airlines are made in foreign exchange. Nepal has modern banking facilities and some of the International Banks have their own offices in Kathmandu. Almost all foreign currencies along with credit cards such as American Express, Visa and Master Card, etc. are accepted in Nepal at major hotels, shops and restaurants.