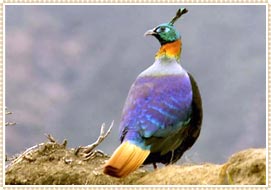 The national insignias are in a way theme of a particular nation. These are the symbols and things that the inhabitant of that nation respect and want to be respected. In a way, these symbols are attached with the conscience of the citizens of that nation.
National Flag of Nepal
The national flag of Nepal is distinct in itself. First of all, it is not rectangular as the flags of other countries are. Then again it is not a single banner but a combination of two banners. It has a red with a blue border around the unique shape of two overlapping right triangles. The smaller, upper triangle bears a white stylized moon and the larger lower triangle bears a white 12-pointed sun. Both these triangles bear the signs of two ruling dynasties respectively.
National Emblem of Nepal
The national emblem of Nepal consists of the Rhododendron flower followed by a white cow. In the left are a green Pheasant and two Gorkha soldiers. One of the soldiers is carrying a Khukri, a bow, and an arrow and the other has a modern rifle. In the background are the various peaks of the Himalayas Mountain. It also has the moon and the sun, both with faces showing caste marks. In the foreground are two crossed Nepalese Flags and Khukri, the footprints of Gorakhnath, the guardian deity of the Gorkhas, wearing the royal headdress. At the base of the design a red scroll carries the national motto in Sanskrit " Janani janmabhumis cha, swarga tapi gariyase" (The mother and the motherland are both dearer than heaven).
National Bird and Animal of Nepal
National bird and animal of Nepal are Lophophoros and Cow respectively. These creatures are the most revered in the entire Kingdom of Nepal. The cow being the thing of reverence in Hinduism has a special place in the heart of the Nepalese. Therefore forget beef till the time you are in Nepal. Don't mention it and never ever ask for it.