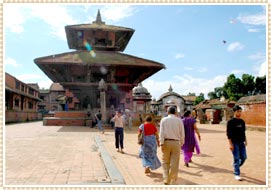 Nepal has got a very variable relief and that's why it is very difficult to suggest a common cloth for the entire of Nepal. The North, Northeast and Northwestern areas of Nepal are mountainous and thus the average annual temperature is much lower than the southern Nepal that is basically a plain.
In the months from April to July, the plain or Tarai region is very hot and maximum temperature hovers around 42 c. The best clothes suited to this condition are light cotton dress. These are light and absorb lots of perspirations. In the same season, loitering in the Northern Nepal will require heavy cotton apparels. In fact, in some of the areas around the Greater Himalayas, you will need light winter clothes.
The months between July and October sees most of the rainfalls. The monsoon in Nepal is very generous and it rains a lot in both mountainous as well as Tarai regions. The same clothing, as prescribed in the summers, will do for the Plain or Tarai region but as far as mountainous regions are concerned, you will need moderate winter clothing.
The winter sets in the month of November and persists till the month of February. The Tarai region comes under cold waves and experience chilling nights. Heavy winter clothing is required in winters. As far as mountains are concerned, they are out of bound for the tourists in this season.