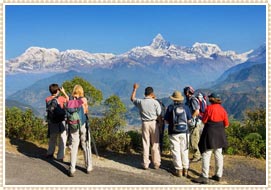 It is said that however well versed you are about a certain place you need a travel guide to tell you the nuances. It is true for Nepal too. Though, a copy of Lonely Planet Nepal will prove more than handy you must take the help of guides if you want to excuse yourself from minor irritants like dickering and all. There are basically three kinds of guides in Nepal namely, travel, trekking and water guides. These travel guides are versed in different languages. Traveler guides for English, French, Spanish, Arabic, Chinese and Japanese are the easiest to be found.
The first and the foremost point are to pick up a right kind of guide. Your best bet is a government approved and licensed guide. You can check out the names and rates of these guides on the official tourism website of Nepal or pick up the list from the tourist help cell at the Tribhuwan Airport. These are trained guides and are well versed in the history and culture of Nepal. There is another edge these guides have over the unlicensed guides. In case they cheat you off or run away with your stuff, you can always call on the helpline number and file a complaint against them. Their registration information ensures that they get caught and your stuffs are returned to you with sincere apologies. However these incidents are less likely to happen in case of registered guides.
There are few things to keep in mind as far as guides are concerned. The Nepalese are very touchy people and can't bear insults. So avoid calling names and using slang. You should always keep in mind that the guides are your escorts and not your servant. Therefore make them feel comfortable with you. Things like eating and drinking together only help in strengthening the bond. That will ensure that these guys go out of way to save you extra dimes. Tips and gifts are always welcome, so keep showering these things. Keep these things in mind and your journey will be smoother than you have thought it to be. Bon voyage.